What up party people.... It's the first day of Spring!!! YAY! Here's some fun stuff I found today :-)
Fashion:
The Budget Babe is QUICKLY becoming my favorite blog (and my bank account's nemesis...). The babe over at Budget Babe has bled my bank account a bit more today's "
New Store Spotlight
" The store of today is "Akira Chicago" Akira is a trendy high end/low end (ie you can get a D&G $300 watch and a $15 plastic belt all in one stop!) boutique in Chicago. I checked out their website and they have some cute stuff! Their Spring line is called "Couture for the Poor". Ooowee they have some cute stuff! Argh! Damn you Budget Diva! Here are a few things that caught my eye...
In addition to Akira, Budget Diva also notified me to a sale at
6pm
...Nine west shoes for $19.99.... I bought 2... Grrrr... oh well I guess $40 for 2 pairs of 9 West work shoes ain't that bad :-) at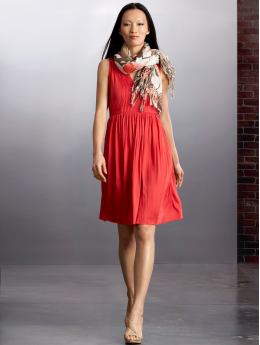 Shefind
s
"Deal of the day" was Banana Republic's sale on "frill free dresses" I was actually at Banana yesterday trying, in vain, to find some work slacks and I saw this dress... It's on sale for $100 now. Is it worth it? --->
Food:
TheKtchn posted this little can strainer kitchen gaget thingie.... If I could find it in a store I would totally buy it because I'm always losing corn kernels, etc when I try and strain the liquid out of the can.... and I think this would be a GREAT use of $9.00 :-D
And Lastly, TheKtchn also posted this awesome easy spring dessert recipe:
Shortbread Jam Tart
I love shortbread... and I'm sure I have all the ingredients (sugar, butter and jam) at home.. so sounds like a possible dessert for this weekend.
That's all for now. Have a fabulous weekend!